"ON THE AIR" group official information sheet
"On the air" is the official information sheet of the Charlie Mike group.
It is printed and distributed on its own, inside the group and with changeable issue interval.
Members in good standing with the payment of annual fee are the only people entitled to receive it.
In the sheet you will find members articles, technical and various news, directory updates and group activities news.
Members can ask for the publication of their own articles to the Board of Governors without any subject restriction but respecting group purposes, the Law and basic human freedoms and rights.
On the basis of these considerations, the articles suitability will be under Board of Governors' unquestionable judgment. They may refuse the publication, providing reasons to article(s) signatory only.
The unpublished articles can be re-propose to the Board of Governor evaluation. They may give approval to the publication on condition that the original reason of unsuitability has been removed and there are no further impedimental reasons.
In any case, article publication will be done as soon as possible.
If available, previous issues may be obtained by requesting the group.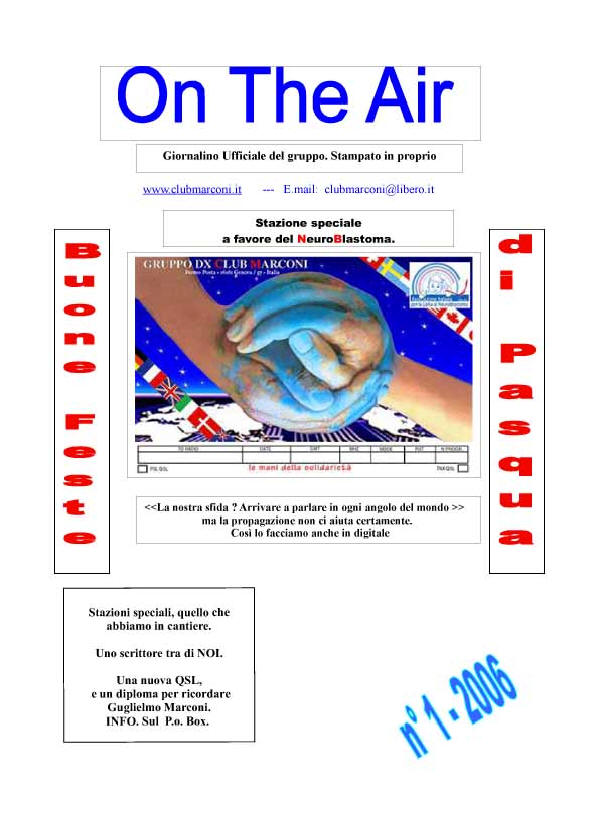 ---
N.B. The above mentioned information is approximate and it could be change during the year. When available, we will insert updates, as soon as possible.
For further information:

clubmarconi@libero.it
---
---